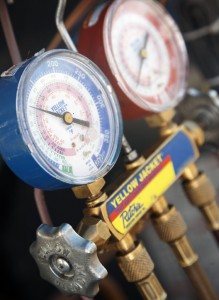 Keep your cooling and heating equipment in top notch condition with our HVAC preventative maintenance services.
You change the oil in your car every 3,000 to 5,000 miles. Your HVAC equipment needs the same attention to extend the life of the equipment and keep it running within manufacturer's specifications. Our number 1 goal is to assist you in maintaining your equipment. We go the extra mile and use pleated filters not the cheap fiberglass filters.
HVAC Preventative Maintenance Checklist (by Season)
Our Preventive Maintenance Agreements provide for the following services performed by licensed qualified technicians who are not on sales commissions.
Spring HVAC PM Checklist
Replace Filters
Blow Out Condensate Drain and Clean Pan
Wash condenser coil (provided water is available)
Measure Freon Level and fill as needed
Visually Inspect for Refrigerant Leaks
Check supply and return air temperatures
Inspect Electrical Disconnect for proper operation
Tighten Electrical Connections
Measure and record Volts/AMPS on Motors
Inspect Safety Controls (If applicable)
Summer HVAC PM Checklist
Replace Filters
Measure Freon Level and fill as needed
Blow Out Condensate Drain and Clean Pan
Check supply and return air temperatures
Lubricate all motors and non-sealed moving parts
Inspect and replace as needed Belts
Fall HVAC PM Checklist
Replace Filters
Inspect Adjust Ignition and Burner Assembly (Gas)
Inspect Heat Exchanger (Gas)
Sequence Electric Heat, Check AMP Draw (Electric)
Inspect and Adjust Indoor Blower Components
Tighten Electrical Connections
Blow Out Condensate Drain and Clean Pan
Cycle Heating and Cooling
Check Outside Air Economizer (If Applicable)
Winter HVAC PM Checklist
Replace Filters
Inspect and replace as needed Belts
Lubricate all motors and non-sealed moving parts
Blow Out Condensate Drain and Clean Pan
Cycle Heating and Cooling
Inspect Adjust Ignition and Burner Assembly (Gas)
Inspect Heat Exchanger (Gas)