Are you looking for quality, well-priced, skilled HVAC services? Perry HVAC  is a full-service commercial air conditioning and heating company that's been taking care of customers big and small in the Dallas Fort Worth metroplex since 1954.
We want to earn your business, too.
Clients who've worked with us have paid us high compliments. Give us a call today at 214-714-6365 and let us know what you need.
It Started with a Dream and a Box of Tools
For Perry HVAC it started in the 1950's with German immigrant Perry Knippa's decision to live the American dream of owning his own company. He was known around the neighborhood as "Mr. Perry" and started Perry HVAC in 1954. He hired neighbor, 12 year old Jerry Fine, as a summer intern to carry his tools. Jerry didn't realize it then, but he was building the work ethic that would eventually lead him to own the company himself.
Mr. Perry set the standard for honesty and quality work. He often said "Give the customer a little extra and take pride in your work."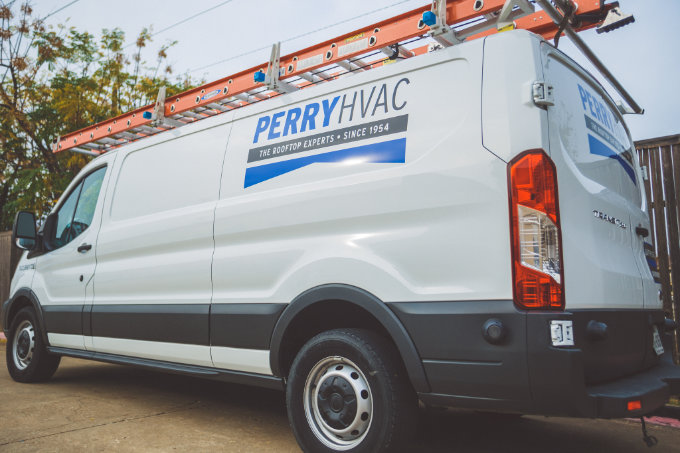 In 1980, after Mr. Perry's retirement, Jerry bought the company from his old boss. Jerry's friend and former partner, Robert Baker is the current owner of Perry HVAC. The company continues to uphold Mr. Perry's standards of quality and integrity in their work as well as offer The Perry Goal: "Satisfaction every time!". Locally owned since 1954!
Commercial Air Conditioning and Heating
We'd love to be your trusted partner for commercial HVAC services. Give us a call today at 214-714-6365 and let us know what you need.
Highlighted Testimony
Thieves ruined two of our air conditioning units by stealing the copper from the units – in July! Trying to get the attention of any HVAC firms in the heat of the summer was a nightmare.
Perry HVAC stepped in to save the day. They worked with us, and our insurance carrier, to expedite ordering and replacing the damaged units and even assisted us with obtaining portable chilling units to allow us to continue to conduct business until our units were replaced.
We were impressed, not only with the urgency in which they responded to our needs, but also by the professionalism exhibited by everyone we dealt with at Perry. We highly recommend Perry HVAC.
Lou Ann Doggett, Business Manager